"Welcome Veterans-Military & All Those Patriotic"

Welcome to my page: Here you will find that I have adopted several POW.MIA.KIA'S. I will be posting Biography,Links and many more Information on these brave men.I have adopted 12 men from all military branches of service.

when I came across Operation Just Cause that is when I decided how I can become active in helping to bring
our Servicemen who are still on the list home. So please stop by my Hero's pages that I have created in their honor.
Thank you
Our Mission Statement is Important!
We Salute Our Veterans We Remember Our P.O.W.'s With Pride With Dignity With Honor and With Grace..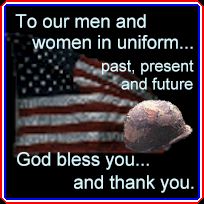 Thank you and God Bless You!