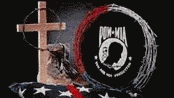 CROW, RAYMOND JACK JR.

Name: Raymond Jack Crow, Jr.
Rank/Branch: E3/US Air Force
country of Loss: Cambodia
Loss Coordinates: 140622N 1063350E (XA682585)
Status (in 1973): Killed/Body Not Recovered
Category: 3Aircraft/Vehicle/Ground: HH53C
Refno: 1805

Other Personnel in Incident: Richard E. Dreher; James Manor; David E. Pannabecker; Raymond A. Wagner (all missing)

Source: Compiled by Homecoming II Project 15 March 1991 from one or more of the following: raw data from U.S. Government agency sources, correspondence
with POW/MIA families, published sources, interviews.Updated by the P.O.W.
NETWORK 2000 with information provided by David E. Pannabecker Jr.

REMARKS: CRASH S SEARCH - NO SURV FND - J
SYNOPSIS: Altogether, the HH-53 "Super Jolly Green Giant"was the largest,fastest and most powerful heavy lift helicopter in the U.S. Air Force inventory. In 1967, the Air Force started a development program to acquire a
night rescue capability, and by March 1971, it had succeeded in installing a nighttime recovery system aboard five HH53C Super Jolly helicopters in
Southeast Asia. The Super Jolly was involved in such famed rescue attempts as the attempt to rescue American POWs held at the Son Tay prison compound near Hanoi in late November 1970, and the assault operation to free the Mayaguez crew in May 1975.

Captain David E. Pannabecker, pilot and Capt. Richard Dreher, co-pilot,were assigned as part of a day rescue mission and departed NKP at 0830 on
the morning of March 27, 1972. Pannabecker's Super Jolly was the second aircraft in a flight of two. Aboard the aircraft was the pararescue team
consisting of James Manor and Raymond A. Wagner.

Following aerial refueling over southeastern Thailand, they departed the
tanker to complete the mission, maintaining interplane communications on FM
and UHF radios. The lead aircraft called a "tally ho" on the aircraft they
were escorting. When the lead aircraft did not receive an answer, the pilot
attempted to find him visually without success. After completing a 180
degree turn, the pilot of the lead aircraft reported sighting a column of
black smoke coming from the dense jungle five miles away. Their position at
this time was in Stoeng Treng Province, Cambodia, about 10 miles southeast
of the city of Siempang.

A pararescue specialist was lowered to the ground at the site of the crash
to check for survivors, but due to the intense heat from the burning
helicopter, he could not approach near enough to determine if there were
crew members inside the aircraft.

Some three hours later a second rescue specialist was deployed in the
immediate area, who reported the wreckage was still burning, precluding
close inspection. It was never determined if any aboard the Super Jolly
survived, but all aboard were declared Killed/Body Not Recovered.

In an attempt to classify the cases of the Missing in Action to determine
which cases could be readily resolved, the Defense Department assigned
"enemy knowledge" categories to each missing man, according to the liklihood
their fates would be known by the enemy. In the case of the downed Super
Jolly, Wagner, Pannabecker and Dreher were assigned "Category 2", and Manor
and Crow "Category 3".

Category 3 includes personnel whose loss incident is such that it is
doubtful that the enemy would have knowledge of the specific individuals
(e.g. aircrews lost over water or remote areas). Category 2 includes
personnel who were lost in circumstances or in areas that they may
reasonably be expected to be known by the enemy (e.g. individuals connected with an incident which was discussed but not identified by name by enemy news media, or probably identified by analysis of intelligence reports.) No explanation has been given as to why the crewmembers were classified differently.
The Americans missing in Cambodia present a special problem. The U.S. has never recognized the government of Cambodia, nor has it negotiated for the release of any Americans captured there. It has generally been believed that any POWs held in Cambodia after the end of U.S. involvement in Southeast Asia perished in the genocide committed by Pol Pot in the mid-1970's.

In 1988, the Cambodian government announced that it had the remains of a number of American servicemen it wished to return to the United States. The U.S. did not respond officially, however, because there are no diplomatic ties between Cambodia and the U.S. Several U.S. Congressmen have attempted to intervene and recover the remains on behalf of American family members,but Cambodia wishes an official overture. Meanwhile, the bodies of Americans remain in the hands of our former enemy.
Even more tragically, evidence mounts that many Americans are still alive in Southeast Asia, still prisoners from a war many have long forgotten. It is a matter of pride in the armed forces that one's comrades are never left
behind. One can imagine any of the men lost in Cambodia on March 27, 1972 being willing to go on one more mission for the freedom of those heroes we left behind.




ELLISON, JOHN COOLEY "BUZZ"

Name: John "Buzz" Cooley Ellison
Rank/Branch: O4/US Navy Unit: Attack Squadron 85, USS Kitty Hawk (CVA-63)
Date of Birth: 16 December 1928
Home City of Record: Layton UT
Date of Loss: 24 March 1967
Country of Loss: North Vietnam
Loss Coordinates: 212500N 1065700E (YJ020693)
Status (in 1973): Missing In Action
Category: 4
Acft/Vehicle/Ground: A6A
Refno: 0629
Other Personnel In Incident: James E. Plowman (missing)

Source: Compiled by Homecoming II Project 01 April 1991 from one or more of
the following: raw data from U.S. Government agency sources, correspondence
with POW/MIA families, published sources, interviews. Updated by the P.O.W.
NETWORK 2004.

REMARKS:

SYNOPSIS: LtCdr. John Ellison was the pilot of an A6A Intruder jet aircraft
that launched from the USS Kitty Hawk on March 24, 1967 on a combat mission
over North Vietnam. Ellison's Bombardier/Navigator that day was Ltjg. James
Plowman. The two were assigned to a strike force suppression mission against
Bac Giang Thermal Power Plant in North Vietnam. They were to suppress
surface-to-air missile (SAM) sites. The target was defended by SAM sites,
light, medium and heavy anti-aircraft batteries, automatic weapons and small
arms. After the "bombs away" call, the airborne Combat Information Officer
tracked their aircraft about 11 miles north of the planed track. Radar
indications disappeared in the vicinity of Ha Bac Province, North Vietnam.
Although Ellison had radio contact with rescuers, he and Plowman were not
rescued. Ha Bac Province is in extreme northern Vietnam near the border of
China.

The families of Ellison and Plowman wonder what happened to their men that
day. There is no indication that they died when their plane disappeared, and
unofficial reports that they have been unable to verify suggest that one or
both may have been captured. A photo of a POW in the front of a march
conducted in China was identified by Navy officer and returned POW Robert
Flynn who was released by the Chinese in 1973 as being James E. Plowman.
Flynn also saw a photo of Ellison while held in China.

Plowman's wife identified him from a North Vietnamese photo just prior to
December 1970, and his parents identified him from a 1967 North Vietnamese
photo.

After Seaman Douglas Hegdahl was released from Hanoi in 1969, he told family
members of Buzz Ellison that he had seen Buzz.

Ellison and Plowman were maintained throughout the war as Missing In Action.
Even though there seems to be some doubt that the two died and that they may
have been prisoners after all, their status was never changed, and by 1980,
they had been declared administratively dead.

Although evidence existed that China held prisoners from the Korean conflict
and the Vietnam war, the U.S. rushed towards friendly relations with that
country, ignoring their best men. Today, there is evidence that Vietnam is
holding hundreds of prisoners from the war in Vietnam, yet the U.S. is again
signing the death warrants of her best men in the rush for normalization of
relations.

Search for crew bears new clues
The Salt Lake Tribune
One family may have learned the fate of a bombardier whose plane crashed
deep inside enemy territory in North Vietnam nearly four decades ago. A Utah
family is still awaiting word on the pilot.

Capt. John C. Ellison, Layton, and Lt. James Plowman, Pebble Beach, Calif.,
were last heard from on March 24, 1967. That was the day their A-6A Intruder
disappeared from radar as the low-level attack jet headed toward the Gulf of
Tonkin near the Vietnam-China border.

The aircraft's last known position was over a densely populated area so far
behind enemy lines that a rescue mission was impossible. The North Vietnamese never acknowledged capturing either man.

During the first decade of their disappearance, returning American POWs brought back word of their whereabouts, but the Navy discounted the reports,
said the pilot's brother, Ted Ellison of Fruit Heights. Although the wreckage was finally found in 1996, it has taken years for the military to sift through the evidence.
The U.S. Joint POW/MIA Accounting Command recently released a report of the site excavation. Only a tiny bone fragment from Plowman was positively identified. Nothing from Ellison.
"We still only know what we were told 38 years ago," said Ted Ellison, an officer with the Davis County Sheriff's Department. "We only know for sure that his plane went down."John Ellison, who graduated from the U.S. Naval Academy in 1952, deployed twice to Southeast Asia with the Attack Squadron 85 aboard the USS Kitty Hawk.His second tour was voluntary. At the time that his plane went down, no other pilot had logged more time with an Intruder than had the 38-year-old Ellison.

One search came up empty. But In 1995, researchers at the Vietnamese National Library in Hanoi found a 1967 article of The People that documented the downing of a U.S. aircraft in the Ha Bac Province the same day that Ellison's aircraft went missing. It was the only U.S. aircraft lost in North Vietnam on that date, according to the report.
A second search team was dispatched in 1996 to the province, where two villagers remembered witnessing a crash and seeing fragmented human remains at the site. Although the site had been severely damaged by heavy rains and villagers scavenging for metal, the team recovered pieces of a plane similar to an Intruder and four bone fragments.

DNA testing linked the tiny fragments to Plowman, who was 23 at the time of the crash.Researchers concluded that "at least one crewman was on board at the time of
impact, and that the crash was non-survivable," according to the report dated in Oct., 31, 2003, and released to the families last week.
Families of the crewman will now have time to comment on the report's
findings.For his part, Ted Ellison said that without DNA evidence, "We don't believe my brother was in the aircraft at the time of the crash. There are many other possibilities of what could have happened."

John Ellison was survived by his wife, who did not remarry, and four children who live on the East Coast. The children's ages ranged from 14 years to 6 months when their father disappeared. "This week "This has been an emotional roller coaster for us," said John Ellison's youngest child,Andrew Ellison of Lynchburg, Va. "I can't describe the feeling of never knowing my father, of never knowing what happened to him. Few people can understand all the sacrifices, all the pain that families like mine have gone through."

Vietnam was American's longest running and arguably, its most divisive war.The number of GIs lost in the 1957-75 conflict stands at 59,229 -- with the latest name etched only two years ago on the polished face of the Vietnam Veterans Memorial in Washington, D.C.

More than 88,000 Americans are missing in action from all the nation's conflicts, according to the Pentagon. Of these, 1,859 are from the Vietnam War.


GOODMAN, RUSSELL CLEMENSEN

Name: Russell Clemensen Goodman
Rank/Branch: O4/US Air Force
Unit: Liaison, USAF/USN, USS ENTERPRISE
Date of Birth: 19 July 1934
Home City of Record: Salt Lake City UT
Date of Loss: 20 February 1967
Country of Loss: North Vietnam
Loss Coordinates: 194158N 1054257E (WG750782)
Status (in 1973): Killed/Body Not Recovered
Category: 2
Aircraft/Vehicle/Ground: F4B
Refno: 0597

Other Personnel in Incident: Gary L. Thornton (released POW)

Source: Compiled by Homecoming II Project 01 April 1990 with the assistance
of one or more of the following: raw data from U.S. Government agency
sources, correspondence with POW/MIA families, published sources,
interviews. Updated by the P.O.W. NETWORK 1998.

REMARKS: POSS DIED IN CRASH

SYNOPSIS: The Phantom, used by Air Force, Marine and Navy air wings, served
a multitude of functions including fighter-bomber and interceptor, photo and
electronic surveillance. The two man aircraft was extremely fast (Mach 2),
and had a long range (900 - 2300 miles, depending on stores and mission
type). The F4 was also extremely maneuverable and handled well at low and
high altitudes. The F4 was selected for a number of state-of-the-art
electronics conversions, which improved radar intercept and computer bombing
capabilities enormously. Most pilots considered it one of the "hottest"
planes around.

Major Russell C. Goodman was an Air Force pilot flying as a liaison officer
between the Air Force and the Navy. On 20 February 1967, he was the pilot of
an F4B Phantom fighter jet with Ensign Gary L. Thornton flying as his
weapons/systems officer. The team was scheduled to fly a bombing mission
against a railroad siding in North Vietnam.

At a point about 8 miles south of the city Thanh Hoa in Thanh Hoa Province,
North Vietnam, Goodman's aircraft was hit by a surface-to-air missile (SAM)
in the left front section. Ensign Thornton could not establish contact with
Maj. Goodman. Before he ejected from the badly damaged jet, Thornton noted
that Goodman was either dead or unconscious because his head was down and
wobbling back and forth.

Ensign Thornton was captured by the North Vietnamese and returned to U.S.
control on March 4, 1973 during Operation Homecoming. During his debriefing,
Thornton expressed his belief that Maj. Goodman did not exit the aircraft.

Since American involvement in Vietnam ended in 1975, nearly 10,000 reports
relating to Americans missing, prisoner, or otherwise unaccounted for in
Indochina have been received by the U.S. Government. Many officials, having
examined this largely classified information, have reluctantly concluded
that many Americans are still alive today, held captive by our long-ago
enemy.

Maj. Russell C. Goodman probably died the day his Phantom took a SAM hit.
But one can imagine that he would gladly be among those first in line to
help bring his comrades home. It's time the war ended. It's time our men
came home.




HUBLER, GEORGE LAWRENCE

Name: George Lawrence Hubler
Rank/Branch: O3/US Marine Corps
Unit: VMFA 235, MAG 11
Date of Birth: 06 September 1942
Home City of Record: Moab VT
Date of Loss: 23 February 1968
Country of Loss: South Vietnam
Loss Coordinates: 155908N 1082227E (BT190690)
Status (in 1973): Killed/Body Not Recovered
Category: 5
Aircraft/Vehicle/Ground: F8E
Refno: 1057
Other Personnel in Incident: (none missing)

Source: Compiled by Homecoming II Project 15 April 1990 from one or more of
the following: raw data from U.S. Government agency sources, correspondence
with POW/MIA families, published sources, interviews. Updated by the P.O.W.
NETWORK 1998.


REMARKS:

SYNOPSIS: The Vought F8 "Crusader" saw action early in U.S. involvement in
Southeast Asia. Its fighter models participated both in the first Gulf of
Tonkin reprisal in August 1964 and in the myriad attacks against North
Vietnam during Operation Rolling Thunder. The Crusader was used exclusively
by the Navy and Marine air wings (although there is one U.S. Air Force pilot
reported shot down on an F8) and represented half or more of the carrier
fighters in the Gulf of Tonkin during the first four years of the war. The
aircraft was credited with nearly 53% of MiG kills in Vietnam.

The most frequently used fighter versions of the Crusader in Vietnam were
the C, D, and E models although the H and J were also used. The Charlie
carried only Sidewinders on fuselage racks, and were assigned such missions
as CAP (Combat Air Patrol), flying at higher altitudes. The Echo model had a
heavier reinforced wing able to carry extra Sidewinders or bombs, and were
used to attack ground targets, giving it increased vulnerability. The Echo
version launched with less fuel, to accommodate the larger bomb store, and
frequently arrived back at ship low on fuel. The RF models were equipped for
photo reconnaissance.

The combat attrition rate of the Crusader was comparable to similar
fighters. Between 1964 to 1972, eighty-three Crusaders were either lost or
destroyed by enemy fire. Another 109 required major rebuilding. 145 Crusader
pilots were recovered; 57 were not. Twenty of these pilots were captured and
released. The other 43 remained missing at the end of the war.

Capt. George L. Hubler was the pilot of an F8E conducting a non-combat
flight off the coast of South Vietnam's Quang Nam province near Da Nang on
February 23, 1968. According to U.S. Marine Corps records, Hubler's aircraft
was involved in a mid-air collision and crashed at sea. There are no other
individuals missing at this location on February 23, 1968, so it is assumed
that all others were rescued or recovered.

Since the war ended, nearly 10,000 reports relating to Americans missing,
prisoner or unaccounted for in Southeast Asia have been received by the U.S.
Government. Many authorities who have examined this largely classified
information are convinced that hundreds of Americans are still held captive
today. Fighter pilots in Vietnam were called upon to fly in many dangerous
circumstances, and were prepared to be wounded, killed, or captured. It
probably never occurred to them that they could be abandoned by the country
they proudly served.
Website Designed,and Maintained by:
Bernie K. Stewart 2001
































































Thank you to everyone for the wonderful graphics:
Doc
Babe on hd
<! - - - - - - - - - - - - - Begin The Wall Link - - - - - - - - - - >



<! - - - - - - - - - - - - - End The Wall Link - - - - - - - - - - >